Pardon me if I indulge here for a moment by posting another adaptive re-use design by Heatherwick studios, this time from South Africa, transforming a building type familiar to many and found throughout the world:  the waterside concrete grain silo.
On the one hand, grain silos are super strong and resilient.  On the other hand, they're kind of limiting… what is one to do with all that tubular space?  Fortunately, the first hand and the second hand can come together, with the unified strength allowing for massive holes to be cut into the structure without collapse.
And that was the founding point of the design.  Using a leftover kernel of corn that was literally picked up at the base of one of the silos as the template, a massive atrium was cut into the silos to create a grand entry and circulation space.  And hoo boy, grand it is!  Glazed on top and with circular elevators and stairs gliding through the peripheral silos it's a stunning sight to behold.  And one of detail mastery as well; the skill on display required to cut the concrete in the complex curving forms is amazing.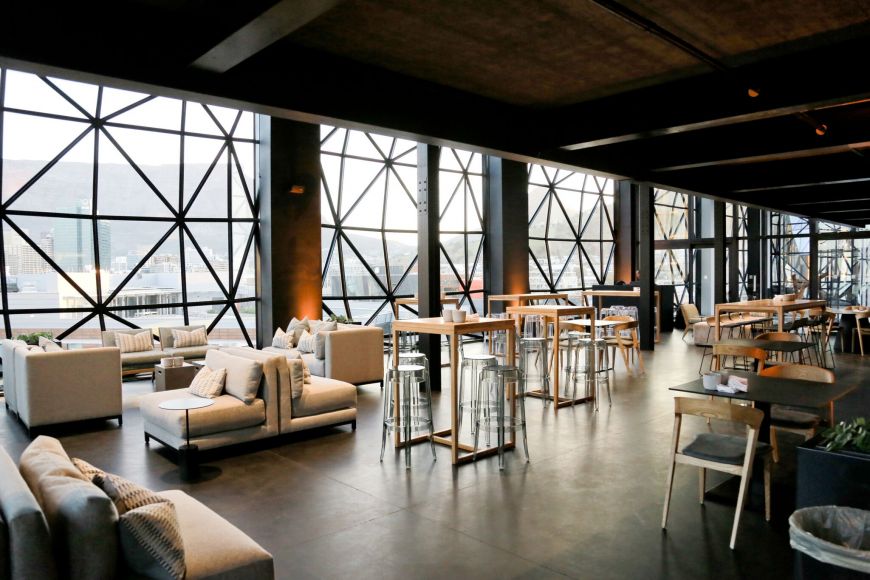 The adjacent grading tower with its strong boxy form is a nice contrast to the silo tubes.  With jeweled windows that protrude from the strong boxy frame additional galleries, event spaces, and even a hotel are created.  Best of all might be the amazing roof sculpture gardens that not only provide an amazing panoramic view of the area coupled with sculpture, but also the skylights for the atrium upon which you can walk and cavort and dance.  Or the rooftop pool for the hotel…
One of the strict desires/briefs by the client was "No curving galleries!  Art is not round!"  So the majority of the galleries seem to be white boxes that totally belie the silo nature in which they are contained.  This to me is unfortunate; while I get the desire for straight walls, to not find a path that could both celebrate the curvy while maintaining the orthogonal is a bit of a lost opportunity.  But that hardly breaks the project.  As an amazing reuse of a very industrial building this is an exceptional win, delightful to experience and doubly great that African modern artists now have a local home upon which to have their works displayed and celebrated.  Great stuff.
The Zeitz MOCAA by Heatherwick Studios
Bonus video!  Click here:  https://vimeo.com/269008579