If this building looks like it was assembled from a kit of almost random parts, well, that is because it, in many ways, is.  Gathered from 30 traditional villages demolished to make way for new developments, the leftover remnants were gathered up and used to create the distinctive faces of the buildings.  Recycled brick, tiles, stones – some which date back over a thousand years – were carefully arranged to create a stable structure that surrounds the angled shape of the museum.
Even the concrete structure of the museum has something unique embedded within.  Using bamboo formwork during construction, it emerges heavily textured, full of rich variation that complements (while still being different) the assembly of found fragments.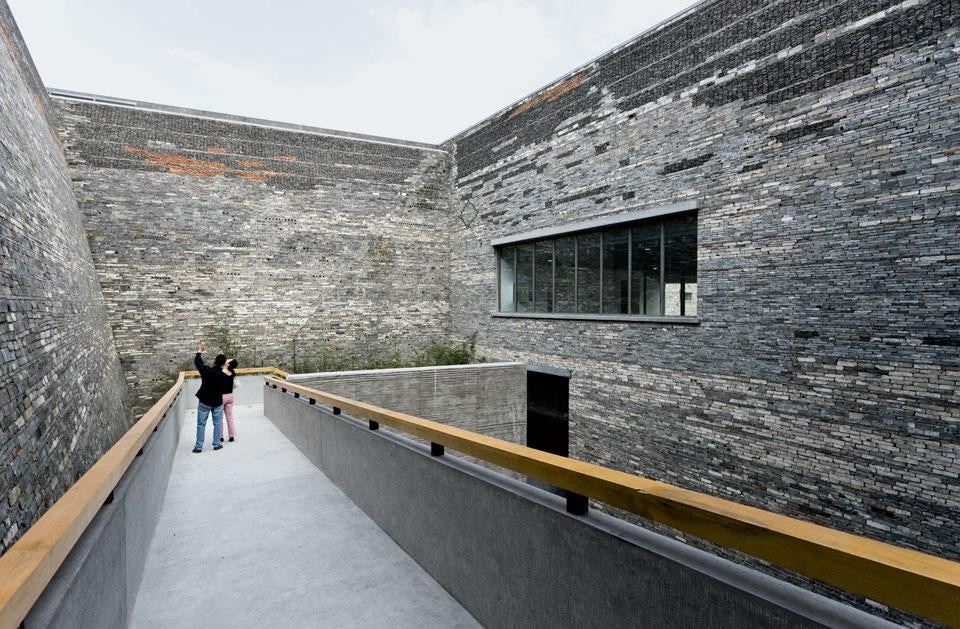 As a bonus, the slanting and rough surfaces create striking canyons and courtyards.
I have some trepidation about this building – it is certainly striking and nifty and in many ways beautiful, but it's also hard to not think of the 30 villages demolished in the name of "progress" that resulted in a rubber-stamp gridded city of rigid uniformity (and of ecological dubiousness).*  Still, for what it is, I do like its creative form and the architect's desire to give expression to those who lost their villages (at least in an "if I can't stop it at least I can do something" kind of way, I imagine).
The Ningbo History Museum by Wang Shu, Amateur Architecture Studio
* In China, the past is often bulldozed to make way for the new.  "Historic Buildings" as a concept has even less of a presence than it does over here.