I mean, it's not like Copenhagen isn't up for some great theatre fun!  With not one but two grand playhouses on the waterfront!
First up we visited the Royal Danish Playhouse.  Built for dramatic theatre, compared to the expressive Oslo Opera House it may seem understated but that doesn't make it any less nice, mixing solidity and texture of stone with the lightness and precision of glass in a sweet interlocking composition.
Much like the Oslo Opera House this theatre has fully integrated itself into the community.  Even in the middle of the day, with nary a performance in sight, the place was bustling both along the promenade and inside.  Unfortunately, we couldn't explore much within, but I bet the theatre lobbies within the big glass bar, cantilevered out towards the water, must be most impressive.
Just up the inlet is the Copenhagen Opera House.  This one brings the idea of a "community porch" to a truly grand scale, with a giant projecting roof that reaches out towards the waterfront.  From afar, the whole roof floats over the building. (For a 360~ shot from under that great porch roof, click here!)
Doubly unfortunately, the building was closed, so we didn't get to tour in and could only glimpse the tantalizing multi-level lobby from the glass doors.  The opera and ballet house is ensconced in polished wood, sitting like a jewel within and connected via a wonderful array of balconies and entryways, making for a fun spatial composition as you talk, drink, wander, and head to and from your seats.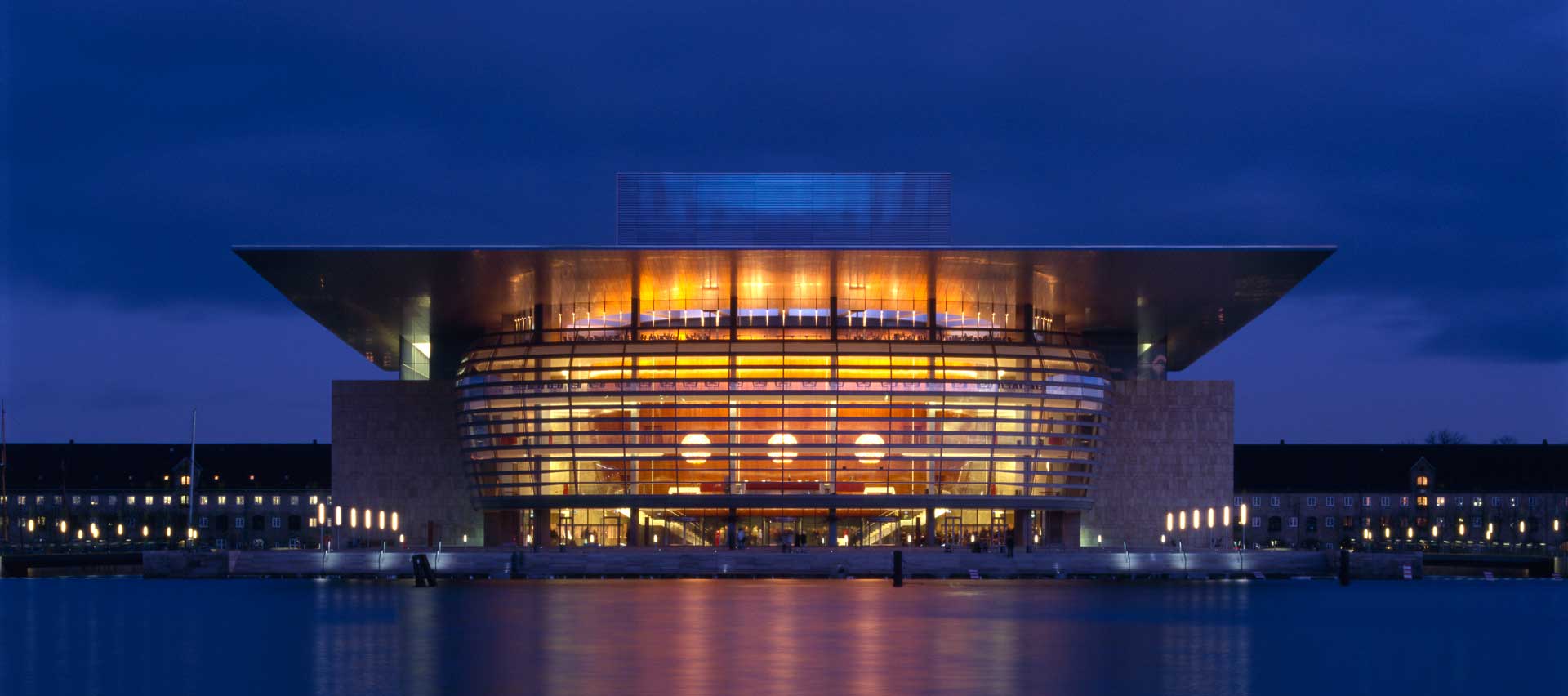 Best of all, at night the curving façade of the opera house (which mirrors the curving face of the theatre within) glows like a lantern.  With the reflections from the water, it's a lovely sight.
A wonderful of great theatres – well done Copenhagen!
The Royal Danish Playhouse by Lundgaard & Tranberg and the Copenhagen Opera House by Henning Larsen.