Floating along on our ongoing Soul Expedition, let's talk about fish.*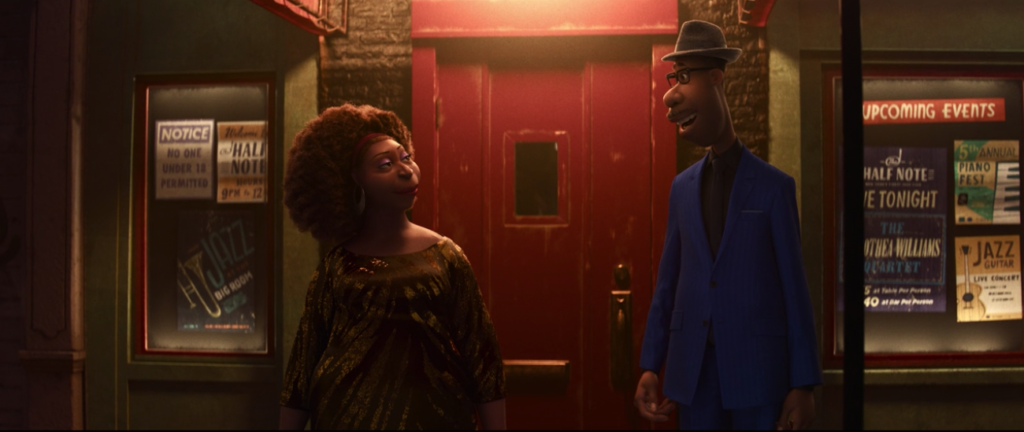 It's that moment when Joe attains all he ever wanted, after a killer performance, and he stands on the pedestal of all he's ever envisioned… and… now what?
It's important to get here that the movie isn't saying that interests, or goals, or hopes and desires aren't worth having, or that they're foolish, or even that they're bad.  What it is saying is what we've covered in the previous weeks about if/then statements, and about attachment, which can be summed up neatly in this way:
When we think that the achievement will solve our life.
Not that it won't be amazing – it probably will!  But it won't solve everything.  Because there's no milestone in life when we "make it".  As in, BAM!  We're done and solved and forever good, we made it.  And even if it did, it'd be precarious, ready to fall apart at the next shifting circumstance.
Interestingly, this is one case where art imitates life, for this happened to the film's composer, Trent Reznor, after his first big Nine Inch Nails concerts.  Which were great, and amazing, and then… he had to come back and do it all again.  Where he got that there were diminishing returns.
Again, it's not that there's anything wrong, or worthless, or that it feels rotten, or that things immediately cease to be fun or exciting or that we stop loving the thing we're doing.  Reznor certainly loves it and keeps doing it!
And that's it:  We can love it, remembering all the while that it will not, and is not, everything.
Joe's disappointment after the big moment isn't because it's done, it's because of his (unintentional, and impossible) expectation that wasn't met.
The beauty for all of us in letting go of the if/then constructs and any attachments, and in returning ourselves to a state of being present, is that we can experience that love and joy unfettered, and ongoingly.
* Which is a reference to a story by Anthony de Mello, but also makes a nice side reference to David Foster Wallace's amazing "This is Water" commencement address.