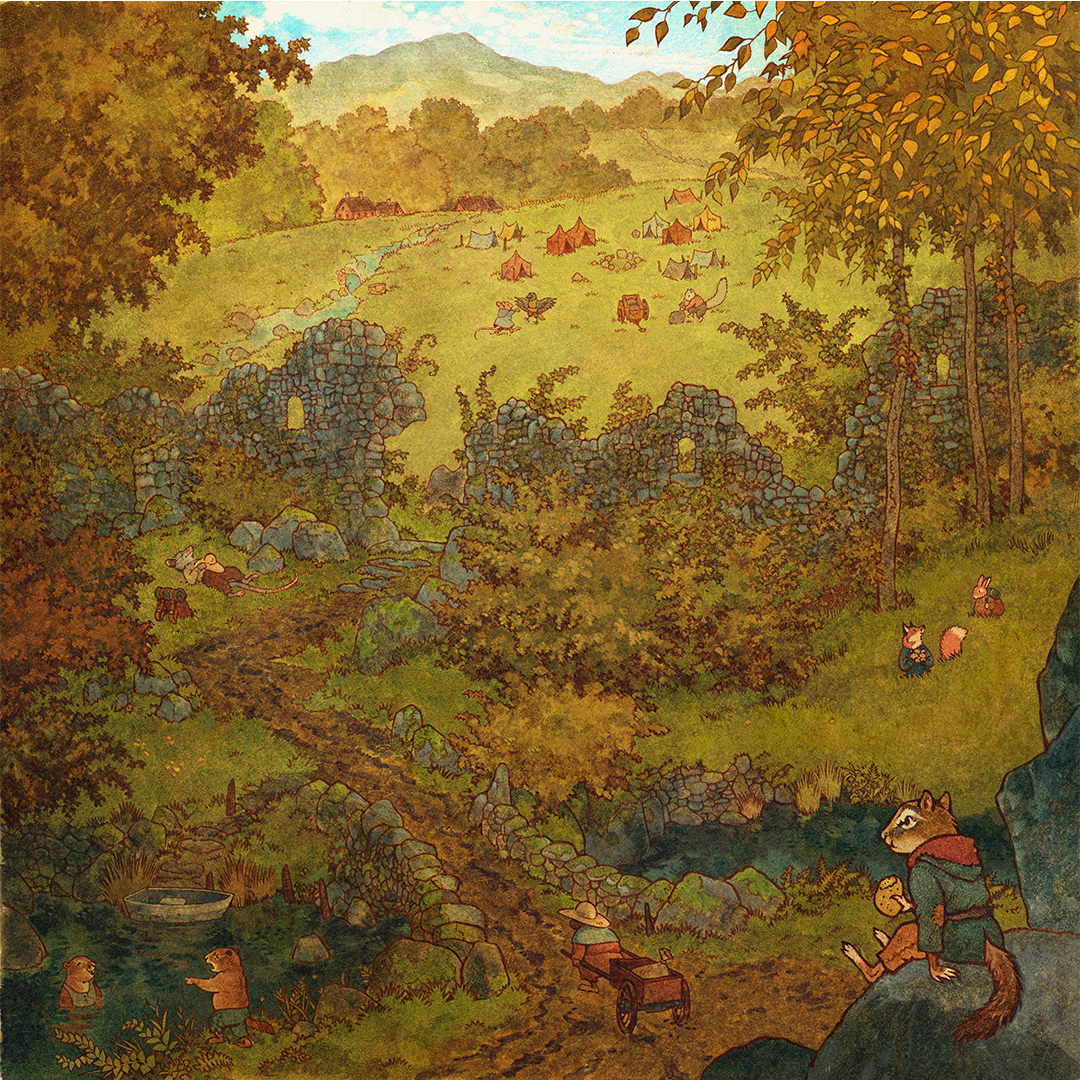 I got a chance to play Wanderhome recently and wow, it was a complete delight.  It does take some getting used to, if coming in and approaching it like a typical game or RPG.  I'm going to say something that might start out sounding like a denigration or trying to be edgy, but know that's not at all where I'm headed.  It's just that Wanderhome might best not to be called a game.  It is much closer to a semi-guided shared collaborative storytelling experience.  It is very rules light, there is no need for dice, and there's very little in the way of defining a proper path or success.  Going in with the view of trying to work it like a traditional RPG is going to inspire little but confusion and perhaps frustration.
But that is its beauty.  Because it totally works inside the much broader and even philosophical view of "a game".  The game here is to create a most engaging and amazing narrative.  The story is the thing, and the richness, wonder, excitement, coolness, and involvement is the game.
To that end, having played Mouse Guard was a good primer for us, for in some ways Wanderhome is akin to an extended player turn from Mouse Guard.  There is no GM (though one of the players can take on that role, either for a part of or for the whole session) and almost all is created on the fly, including the world and any challenges along the way (though more on this latter bit in a bit).  There is a structure that guides and prompts you to help generate all that, but again the joy of the game comes from taking those simple keyword starting points and spinning them out in interesting ways.
For our own game, as we journeyed we wove together the prompts to imagine a town surrounded by tall cliffs on the edge of a lake.  A large waterfall dominated the town, as did the giant waterwheels that harnessed the falling water, the crankshafts disappearing it into a large workshop where it powered giant looms.  A legend in the town spoke of a ghost story involving never-ending tapestry, a fable that tied into the waterfall itself which, from a certain point of view, was like a never-ending tapestry, always being woven from the cliff face to the lake below.  It was autumn, and while the area had colourful leaves and warm drinks, our prompts asked us why didn't it have long shadows?  Because of the mists, the hovering fine films that diffused and rendered light into ambient omnidirectionality, with the cliffs turning day into sudden night as the sun slipped behind them (which also prevented any sun angles that could generate long shadows).  From just that the town was already appearing to us as quite a magical place.  It was very pastoral and fable like, and I would definitively call this a pastoral game in the best possible way, something the wonderful art does wonders to evoke.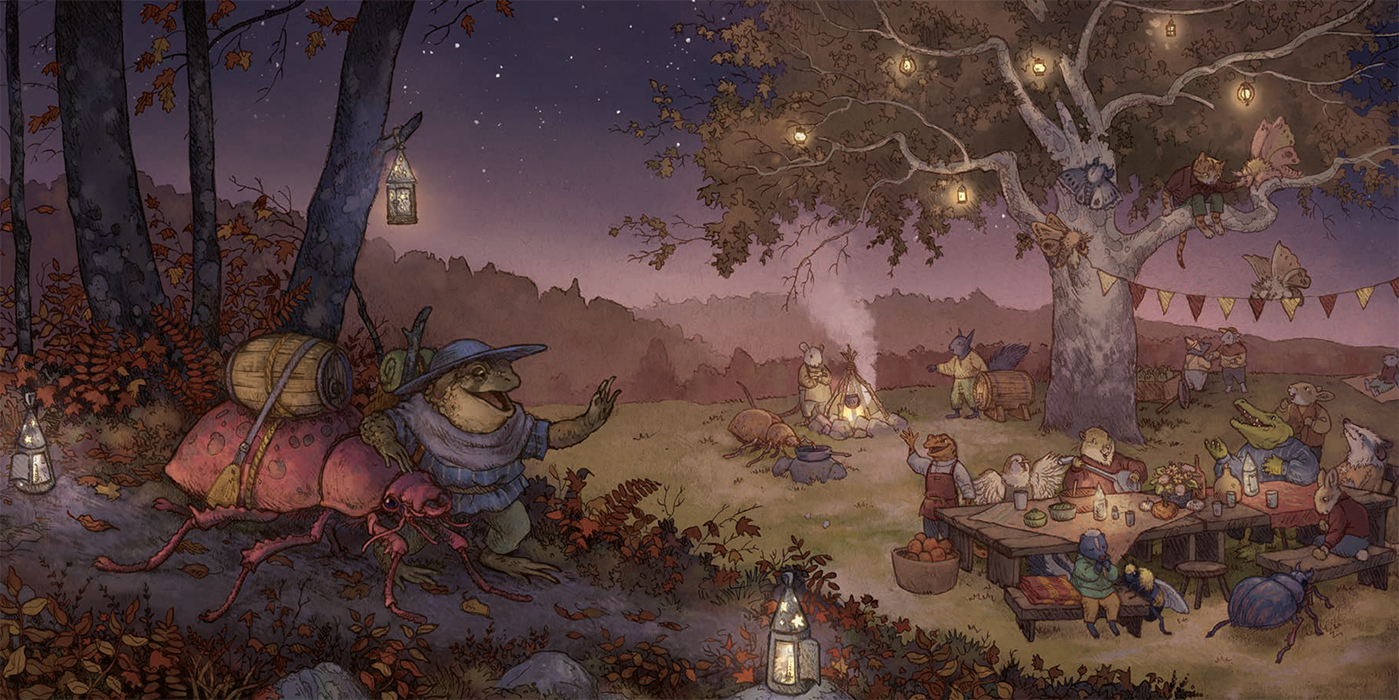 As delightful as this world building is, it also serves a purpose, which is to provide a driving backdrop to your story.  I use this slightly contradictory word choice deliberately, as Wanderhome is a game that is not centered around external challenges.  Rather, it is a game/story about internal challenges.  It is about who the characters are and what they are dealing with; it is about their metaphysical journeys; it is about what the players learn about the characters and, through that, what the characters learn about themselves.
Which is actually quite cleverly indicated in its name:  Wanderhome, or Wander Home.  In some way, and in their own particular way, all the characters are either away from their home or not yet home or feel a loss of home (or lost).   And through this journey, the question is (and it is an explicit question at the start of a session that you, as a player, ask quietly to yourself in-character) "where is home for me?"  And maybe the character will find it this session.  Or they won't, and their journey will continue.  But finding home, and that peace and solace and completeness and comfort and clarity, is what the story is about.
And through that lens/intent is where the driving backdrop comes into play.  How will your character interact with the world?  What will the world ask of your character?  What obstacles or opportunities will arise, and how will you respond?  How do you interact with your fellow travelers (the other characters)?  Sometimes the challenges will arise from the world – a missing object, a house in need of repair, the weather bearing down on you.  But even in those situations, the prime bit is not so much the resolution, but again what it tells us about the characters, and how they react and change as a part of it.  Any physical challenges are a vehicle to delve into the internal challenges, which in turn can beget more internal challenges.  Not that the world need intervene; the internal challenges can engage with the environment or its denizens (called Kith in the game) as a backdrop catalyst to highlight and conceive and draw forth the internal challenges.  All in service of the rich story being woven.
Likewise in service of that story is the "resolution system" of Wanderhome.  Wonderfully tuned for effect, it has but one metric:  a token.  If you have a token, you can spend it to solve a material challenge, or even more powerfully to ease someone's pain, to keep someone safe, to offer a chance to deeply connect, or to reveal something about the world or someone.  You'll notice that the traditional RPG-type challenge is resolved handily by spending a token – once again it is but a vehicle for the inner story and journey of your character, and the rest of the tokens are similar, either creating an opening for you or to craft something about the place and hence enhance the story.  Even better is how you gain tokens, for they likewise all work to support the feel of the game and the story being generated.  Many are character-driven, such as giving away something you hold dear, or speaking your true feelings on a subject, but others are wonderfully tranquil, such as allowing you to marvel at beauty, and either create it or else ask the table to describe it.  You can even just pause for a moment to get some rest.  That it.  Just like that, to gain a token.  It fits the mood of the game perfectly.
There's plenty more to love here, including a lovely calendar and defined seasons that are an important part of the narrative, along with regular festivals.  The game can be played light and serene, or it can delve into more serious issues of trauma and recovery (with solid tools and advice for ensuring everyone at the table is onboard and up for it).  And while the various prompts are meant to be picked from, they're very much set up to be rolled if you choose, as we did, allowing the randomness to further engage our imaginations.
As you can tell we thoroughly enjoyed playing Wanderhome, and I heartily recommend it.  It's a delicious chance to switch from the usual RPG modes and craft a deep, rich, and moving story while savouring the scenery along the journey.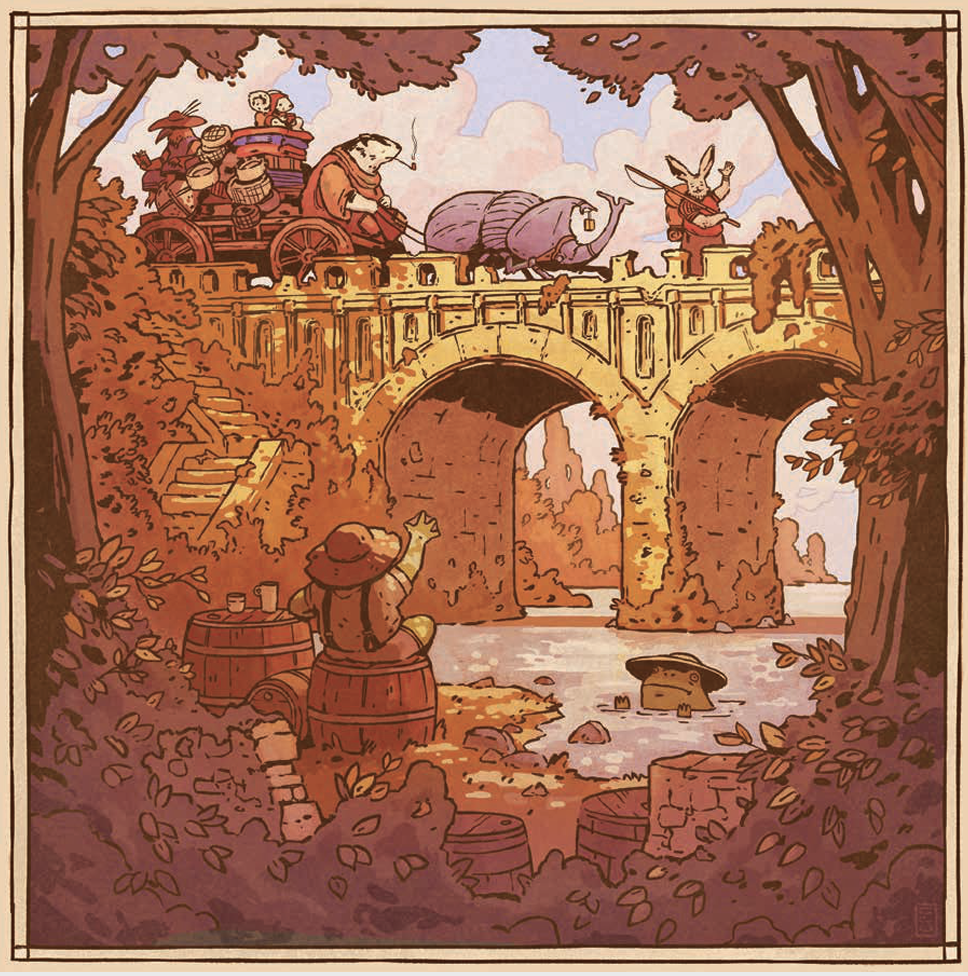 You can buy the game in PDF here, or pre-order the hardcover here.